Coronavirus: Facebook launches UK Covid-19 symptom survey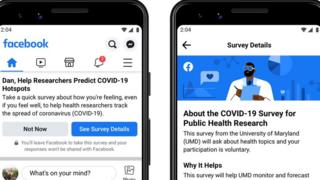 Facebook is to begin asking selected UK users whether they have had symptoms of Covid-19, later on Wednesday.
It is part of a joint effort with Carnegie Mellon University (CMU) to track the spread of the disease.
Facebook said it would not have access to users' health data but would simply pass it on to CMU.
One expert said data from the surveys would be useful to scientists but probably not, on its own, reveal much about the disease.
Facebook launched the surveys in the US, on 6 April, attracting about a million responses per week.
Users have been asked questions about their health and whether they have experienced any common symptoms of Covid-19, such as a persistent cough or a fever.
And CMU analysts intend "within a few weeks" to use data from the surveys and other sources to forecast how many Covid-19 hospital and intensive care admissions are likely in specific areas.
Facebook has already published a symptom map showing its estimated proportion of people with Covid-19 in areas across the US.
App fatigue
Mauricio Santillana, at Harvard University, said the project was "very useful".
"The Covid-19 outbreak is presenting us with big challenges in terms of estimating prevalence in the population," he told BBC News.
"The more data sources that we gain access to… the better."
But trusting a single data source would not be wise and the Facebook survey data should be treated as "complementary" to other information.
Dr Santillana also warned apps and surveys that askes people about their health would not necessarily be able to sustain a broad response from the public.
"We've seen that in apps that ask you every week how you're feeling – usually at the beginning a lot of people get involved enthusiastically and then as time evolves less and less people participate," he said.
And the longer the pandemic continued, the more likely "app fatigue" might become.
Source :
BBC News - Technology
Coronavirus: Facebook launches UK Covid-19 symptom survey
Coronavirus: Facebook launches UK Covid-19 symptom survey