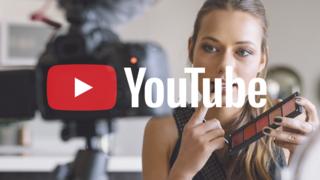 YouTube is adding more ways for video-makers to make money, following criticism from bloggers and increased competition from rival platforms.
Many video-makers have complained that changes to YouTube's advertising policies have made it difficult for their videos to earn ad revenue.
YouTube will now roll out "channel memberships" that let viewers pay $4.99 (£3.80) a month for exclusive content.
Rival sites such as Twitch and Patreon already offer similar features.
YouTube's updated advertising policies were introduced after ads from popular brands appeared alongside extremist and sexual content.
The changes stopped videos "unsuitable for all advertisers" from earning ad revenue, and were dubbed the "adpocalypse" by video-makers who saw their income fall.
The new features let video-makers:
charge fans $4.99 a month for access to exclusive badges, emoji and members-only videos


sell merchandise such as "phone cases with a creator's face on" underneath their videos


host live-streamed "premieres" in which they debut their latest work while chatting to fans in real-time


Creators in the US with more than 10,000 followers will be able to sell merchandise and host premieres, while those with 100,000 followers will be able to offer paid memberships.
The paid subscription mirrors the offering on games-streaming site Twitch.
YouTube also faces increased competition from Facebook, which launched Instagram TV (IGTV) on Wednesday. Facebook has encouraged popular video-makers to upload vertical videos on its new platform, but it does not currently share advertising revenue with creators.
"Platforms such as Twitch developed opportunities for creators to receive money directly from their viewers," said Alex Brinnand, editor of the YouTube magazine TenEighty.
"YouTube is now playing catch up and offering alternative monetisation options but the new threat of IGTV could change the game even further.
"Creators are largely in favour of the direct-to-creator monetisation options, as it offers them higher revenue from people who are passionate about watching their content. This is something we've seen on crowd-funding platforms for a long time now, so it is really interesting to see the online video industry adopt this revenue model."
Source: bbc technology