House Minority Speaker Nancy Pelosi has scolded media for giving President Donald Trump too much airtime, and also compared the President to Italian dictator Benito Mussolini. Trump has been in a state of war with the press.
Pelosi, who is facing tough opposition from within her own party against her bid to become the next House Speaker, has taken a swipe at the media for letting Trump hog so much attention.
In an interview with the New York Times' Robert Draper published on Monday, the veteran politician made a surprising claim, alleging that the press has been enamored with the US President.
I think the press loves him. All day on TV – and I don't even watch TV, except sports. But he says somebody had a horse face – all day we hear about that. We hear about Kanye West, all day. You just give him all day!
Pelosi was referring to Trump's Twitter rant from last month, in which he called porn actress Stormy Daniels "Horseface" and said that he would "go after" her and "her3rd rate lawyer" Michael Avenatti after a federal judge had thrown out Daniels' defamation case against him.
Read more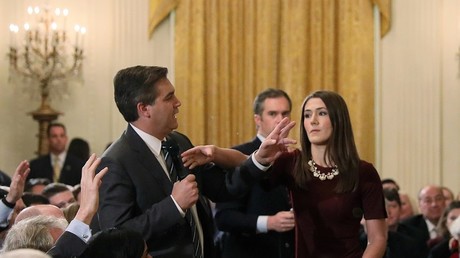 Pelosi then appeared to draw parallels between Trump and Hitler's Italian ally Mussolini, alleging that the US leader and the fascist dictator had similar takes on media attention.
"So I don't want you to think I'm making an analogy.. but Mussolini, he didn't care what they said about him, as long as they were talking about him," Pelosi told NYT.
Since he came to power, Trump's frequent foul-mouthed Twitter escapades have become a stable source of headlines for both national and international media. Even before that, the real estate mogul-turned President has been a permanent media fixture since at least the 80s, due to his extravagant lifestyle and rubbing shoulders with celebrities.
Trump's tumultuous relationship with the media, which he has called an "enemy of the people," has often been described in love-hate terms. The US President has launched numerous attacks on mainstream, predominantly liberal media, calling the NYT "failing" and branding the CNN and the Washington Post "fake news."
His most recent spat with the CNN ended in court after the White House revoked CNN reporter Jim Acosta's press pass, following Acosta's exchange with the President during a press conference, during which he also physically prevented an intern from taking a microphone from him. On Friday, US District Court Judge Timothy Kelly sided with CNN, ordering the White House to restore Acosta's credentials while citing a lack of any applicable rules on the issue. The Trump administration then fired back, releasing a set of rules on Monday and warning Acosta that his pass might be revoked again if he fails to comply. The rules stipulate that every journalist is entitled to "a single question" unless permitted a follow-up by a White House official.
Like this story? Share it with a friend!
Source :
RT - Daily news
'You give him all day!' Pelosi is irritated that press 'loves' MSM-bashing Trump
'You give him all day!' Pelosi is irritated that press 'loves' MSM-bashing Trump