General Electric drops out of Dow index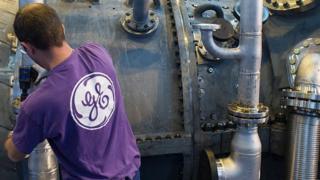 General Electric is losing its place on the Dow Jones Industrial Average after more than 100 years in a move that reflects a fall in the firm's fortunes and changes to the US economy.
Walgreens Boots Alliance is to take its spot on the financial index, which tracks shares of 30 companies deemed representative of the US economy.
The change takes effect on 26 June.
The firm that runs the index said the change is meant to reflect the growth of the healthcare sector.
"Today's change to the [Dow Jones Industrial Average] will make the index a better measure of the economy and the stock market," said David Blitzer, managing director and chairman of the index committee at S&P Dow Jones Indices.
The move follows a tough year for General Electric.
The company has announced a series of cuts as it attempts to reposition itself and it has seen its share price fall.
General Electric said it was focused on executing the plan it had laid out to improve GE's performance.
"Today's announcement does nothing to change those commitments or our focus in creating... a stronger, simpler GE."
Source :
BBC News - Business
General Electric drops out of Dow index
General Electric drops out of Dow index