The New York Times has seemingly carelessly stepped on a thin ice by issuing a piece titled 'Are Jared and Ivanka Good for the Jews?' … and apparently fell through it by provoking a storm of criticism on the social media.
A pretty long piece issued by the Gray Lady appears to be in fact another thinly veiled jab at President Donald Trump as it mostly focuses on the fact that Trump's presidency somehow led to the rise of anti-Semitism in the US while his staunchly pro-Israel policies did not found support even among some parts of the US Jewish community.
Read more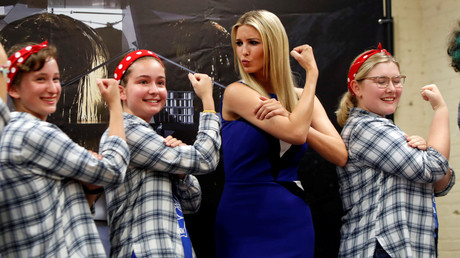 All these issues are carefully wrapped up in the speculation on the fact that his essentially Judaist daughter and the Jewish son-in-law, who both act as the president's advisors, do not make the situation any better … including for themselves and the US Jewish community, which is divided over the whole issue.
Regardless of whether the role Ivanka Trump and Jared Kushner play for the US Jews was up to the debate, the New York Times' attempt to speculate on an increasingly complicated topic of intra-ethnic relations mixed with an already pretty much dividing issue of Trump's policies apparently backfired. After all, even though the online community might be divided on some issues, it mostly agreed that the NYT piece on this issue was no good.
Many commentators said that the NYT actually does not understand the Jewish communities, as "if it is visiting Mars," as one professor put in a tweet. Others called the headline "disgusting" and actually accused the media outlet of anti-Semitism.
Some ridiculed the very idea of such piece by calling it "absurd."
Members of the US journalist community also joined the overall wave of criticism by saying the article is "beyond questionable" and calling its headline "outrageous."
A number of prominent members of the US Jewish community and Israeli media figures rallied to Ivanka and Jared's defense by saying that posing a question that the NYT actually asked would be wrong.
Some also said that the piece is in fact just another attack by the liberals on Trump and his inner circle.
Apart from the backlash, the NYT received over its choice of topic, some people on the social media also criticized it over an entirely different perceived bias, i.e. the lack of women in its choice of people the media quoted in its article.
Like this story? Share it with a friend!
Source :
RT - Daily news
New York Times under fire for asking if 'Jared & Ivanka are good for Jews'
New York Times under fire for asking if 'Jared & Ivanka are good for Jews'