Young's Seafood loses £30m Asda whitefish and shrimp contract
Young's Seafood loses £30m Asda whitefish and shrimp contract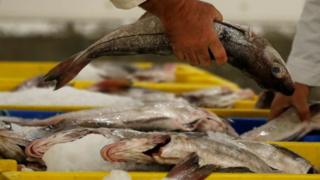 Young's Seafood has lost a £30m contract with the supermarket chain Asda.
A spokesperson for the Grimsby-based firm said it was disappointing news but Asda remained an important customer.
The firm also highlighted recent contract wins, which it said demonstrated its ability to retain and grow the business.
Asda, which said it would not comment on individual contracts, said Young's continued to be a significant partner.
More from northern Lincolnshire and East Yorkshire
'Difficult time'
According to trade magazine Undercurrent News, Asda has given Young's notice on about £30m of business in whitefish and shrimp.
It reported the prawn work would be heading to France, while the whitefish contract would go to Albert Darnell, also based in Grimsby.
Tom Seaman, editor of Undercurrent News, said: "The UK seafood sector is going through a very difficult time with high-cost inflation after Brexit and the currency situation.
"Retailers are under pressure and it's causing this reshuffle in contracts and it may take quite a while to settle down over who supplies who in the future."
In April Young's Seafood, which employs about 1,700 people in Grimsby, was put up for sale.
The company has been in business for more than 200 years and based in the northern Lincolnshire port for more than 50 years.
Young's has also confirmed the closure of its Pinneys of Scotland plant in Annan, which came after consultation over proposals to move production from the Scottish site to Grimsby.
Source :
BBC News - Business
Young's Seafood loses £30m Asda whitefish and shrimp contract
Young's Seafood loses £30m Asda whitefish and shrimp contract