Missing man's police drone rescue in Norfolk 'a miracle'
Missing man's police drone rescue in Norfolk 'a miracle'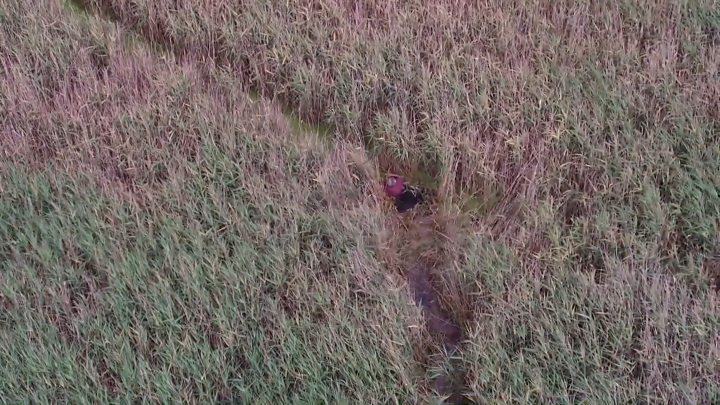 The wife of a missing man who was located by a police drone up to his armpits in mud said it was "a miracle" he was found alive.
A major search was launched for Peter Pugh, 75, from Brancaster, Norfolk, after he disappeared following a beach walk on Saturday at 17:10 BST.
It was only when the drone was sent up that Mr Pugh was spotted in a muddy creek at Titchwell Marshes on Sunday.
Police said the technology was key to their rescue operation.
Mr Pugh's wife Felicity said her husband, who is still in hospital in King's Lynn with hypothermia, was "slightly bemused" by what had happened.
She said she had nothing but praise for the "wonderful" emergency services involved in finding him.
Sgt Alex Bucher from Norfolk Constabulary said: "There is no doubt that without the police drone we would not have been able to locate him in the time we did.
"The police drone allows us to search areas that are difficult to access and within close range where a helicopter may not be able to get."
The search for Mr Pugh involved 50 people, the police helicopter, HM Coastguard and a lifeboat from Wells.
He was pulled from the deep muddy creek and given first aid until the coastguard helicopter arrived to winch him out at 15:38.
You may also like:
Mrs Pugh said her husband left the family on the way home from Brancaster beach to take a shortcut but slipped and fell.
The keen cyclist and walker was able to drink fresh water from the creek while waiting for rescue.
"The emergency services and technology saved his life but he stayed alive because he was so fit," Mrs Pugh said.
She added she was "quite sure he had been washed out to sea" as time went on and his rescue "was like a miracle".
Mrs Pugh said she and her three sons had decided he would never be allowed to walk off again, adding "he'll have a ball and chain around the kitchen".
Source :
BBC News - Technology
Missing man's police drone rescue in Norfolk 'a miracle'
Missing man's police drone rescue in Norfolk 'a miracle'