Heathrow Airport: MPs to vote on third runway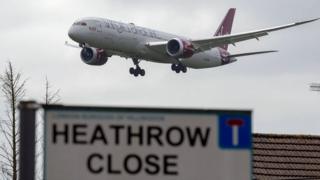 MPs will decide whether to build a third runway at Heathrow airport later, in a vote likely to expose splits in both Labour and Tory ranks.
The spotlight is on Foreign Secretary Boris Johnson, who vowed to lie in front of bulldozers to stop expansion.
He faces criticism for missing the vote - although Theresa May defended his trip abroad as showing he was "the living embodiment of global Britain".
Other Tory MPs have been ordered to vote in favour of the runway plan.
With the government issuing a three-line whip to its MPs - and about 40 Labour MPs expected to vote with them - it is widely expected that the expansion plan will get Commons backing.
But the SNP, which had been expected to vote with the government, could decide to abstain or vote against expansion, sources have told the BBC.
Were their 35 MPs to vote against, it could make the result closer than previously expected.
Chelsea and Fulham Conservative MP Greg Hands, who quit as international trade minister last week to oppose the airport expansion, will be among the Tory MPs to speak out against the project.
Labour's shadow chancellor, John McDonnell, whose Hayes and Harlington constituency is near the airport west of London, is expected to vote against expansion, despite Labour's trade union backers being in favour of it.
Opponents of Heathrow expansion have attacked the scheme on environmental, noise and financial grounds, with some making the case for an alternative expansion scheme at Gatwick airport.
Greater Manchester's Labour mayor Andy Burnham urged the prime minister to guarantee funding for transport projects in northern England - including rail - saying the government's "focus has drifted southwards once again".
But Transport Secretary Chris Grayling told the BBC the new runway was "not simply a project for London and the south of England".
"The connections we create through Heathrow will benefit the whole of the UK," he told Radio 4's Today.
The government has made the following five pledges.
No cost to taxpayers


An economic boost providing 100,000 jobs


Guaranteed benefits for the whole country including internal flights, rail links and "global opportunities" for regional firms


Built-in environmental protections


The ability to fine Heathrow or ground aircraft if the airport breaks its own promises over the scheme


Mr Grayling said he was "cautiously optimistic" that MPs from all MPs parties would back "the biggest transport decision in a generation".
"There is strong support from across the political spectrum for this," he told Today.
Boris Johnson, who is MP for Uxbridge and South Ruislip in west London, has faced criticism for his absence from the vote, having a been a vocal opponent of a third runway as London mayor, when he was promoting a scheme for a new airport in the Thames estuary.
The government has so far declined to say where Mr Johnson will be when MPs vote on Monday evening, on security grounds.
Mr Grayling said he had "genuinely no idea" where his colleague was at the moment and his decision to be out of the country later was a "matter for Boris himself".
BBC assistant political editor Norman Smith said the revolt of Tory MPs voting against the government is likely to be "more muted" - partly because the "figurehead of opposition" Mr Johnson will not be there.
Green Party MP Caroline Lucas has called on the foreign secretary to resign, while Labour leader Jeremy Corbyn said Mr Johnson's constituents had a right to know where he was.
"I would have thought, if nothing else, as a constituency MP he would want to be in the Commons because, after all, his constituency is very, very near to Heathrow," Mr Corbyn said.
Senior Tory backbencher Sarah Wollaston said allowing Mr Johnson to travel abroad "won't wash" while former Conservative cabinet minister Stephen Crabb said Mr Johnson would "need to look his constituents in the eye" and explain his absence.
But Conservative MP Jacob Rees-Mogg told LBC that Mr Johnson's behaviour was "not unreasonable".
Mr Johnson had made the commitment to oppose a new runway while he was London Mayor, Mr Rees-Mogg said, and like all Tory MPs, had stood on an election manifesto last year backing Heathrow expansion.
The Heathrow expansion is forecast to cost about £14bn, and is likely to lead to hundreds of homes being demolished in the nearby villages of Longford, Harmondsworth and Sipson.
A new runway would increase Heathrow's capacity from 85.5m passengers to 130m.
The Department for Transport has previously said no expansion would mean London's five airports reach full capacity by 2034.
Source: bbc business