Clock changes: EU backs ending daylight saving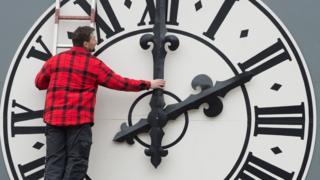 The EU Commission is proposing to end the practice of adjusting clocks by an hour in spring and autumn after a survey found most Europeans opposed it.
Commission President Jean-Claude Juncker said millions "believe that in future, summer time should be year-round, and that's what will happen".
The Commission's proposal requires support from the 28 national governments and MEPs to become law.
In the EU clocks switch between winter and summer under daylight saving time.
A European Parliament resolution says it is "crucial to maintain a unified EU time regime".
However, the Commission has not yet announced details of the proposed change. In a consultation paper it said one option would be to let each member state decide whether to go for permanent summer or winter time.
But the Commission warns that uncoordinated time changes between member states would cause economic harm.
In the survey, reported by German ZDF television, 80% of the 4.6 million respondents called for scrapping the spring and autumn clock change.
The UK is one of the 28 nations, but is due to leave the European Union in March 2019. Any change would be unlikely to happen before then.
Why do many dislike Europe's daylight saving time?
Some studies cited by the Commission point to adverse health impacts from the clock changes.
"Findings suggest that the effect on the human biorhythm may be more severe than previously thought," it says.
Clocks go forward by an hour on the last Sunday in March and switch back to winter time on the last Sunday in October.
Finland called for daylight saving to be abolished EU-wide, after a petition gathered more than 70,000 signatures from citizens calling for such a change.
Daylight saving was introduced in 1980 based on the argument that it would reduce energy costs. But the Commission says the data on energy-saving is inconclusive.
There is also no reliable evidence that the clock changes reduce traffic accidents, the Commission says.
What are the EU's current time zones?
There are three standard time zones:
Three states apply GMT (the UK, Ireland and Portugal)
17 have Central European Time, which is GMT+1
Eight have Eastern European Time, which is GMT+2
The current seasonal clock changes are controversial partly because there is a big difference in daylight hours experienced by Scandinavia and by southern Europe.
Nordic countries have long, dark nights in winter and short nights in summer. The pattern in the south is more even across the seasons.
There are anomalies too. For example, neighbours Portugal and Spain are in different time zones, as are Sweden and Finland.
Source: bbc world